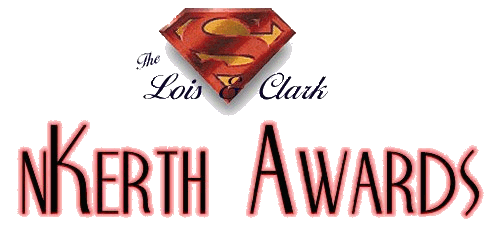 Our third nKerth awards ceremony, held Saturday September 8 at 6 pm EST on IRC, was another big success. We had 20 individuals submit nominations, 60 vote, and 42 were able to attend the ceremony! Before the last award was presented, a special tribute was given to WaffyBarb.
An edited log of the ceremony as well as the audience channel are available.
Special thanks to the following people for helping to make this year's ceremony a success:
Executive Producer - Dawn and Anne D.
Producers - LabRat and the Lurker
Moderators - Simba, KathyS., Avia, and Dawn
Logs - Anne and Dawn
"Envelope" Person - Dawn
Title bar updates - KathyS.
Emcee - Dawn
Sounds - Anne
Bouncers - Avia and Anne
Presenters - Artemis, Avia, Caroline, Crys, Helene, Kylie, LabRat, Liz, Merry, Wendy
Commercials - Amac, Sherry, SuperMom
Plaques - The Lurker and an Anonymous FoLC
Official Tallies - The Counting Firm of Peterson, Andrews, and Thomas
and a special thank you to thank TerriAnn for the great job she did with the quizzes this year!

And thanks to the authors for sharing their talents with all of us who have this special show in common, and for those who archive them and make them available for the fans: Debby and Joyce, Anne, Demi, Zoomway and the authors who maintain their own sites.
Return to the 2001 nKerth Awards.